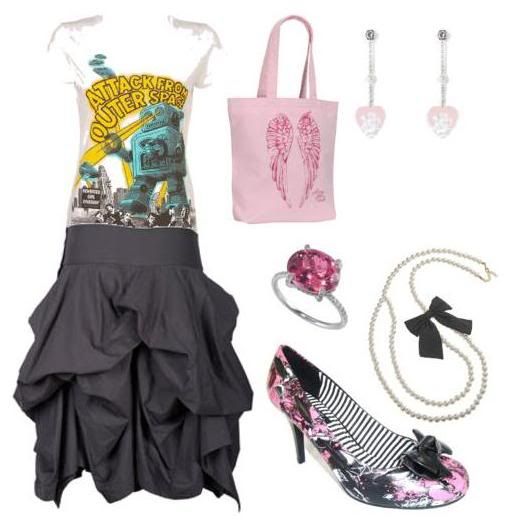 Katie had spent three hours trying to make an outfit suitable for her first date with Oscar; cute but comfortable enough to handle the nervous touches, the laughter and awkwardness. As she sat and straightened her hair and put the finishing touches on her perfect pink pout, she realised she'd just had more fun dressing up than she would probably have with the boring boy her mum had set her up with.
(Hitch Skirt: All Saints - Knit tote: Aeropostale - Jewellery: Miss Selfridge, Vera Wang - Tee: Newbreed Girl at Topshop - Pumps: Iron Fist)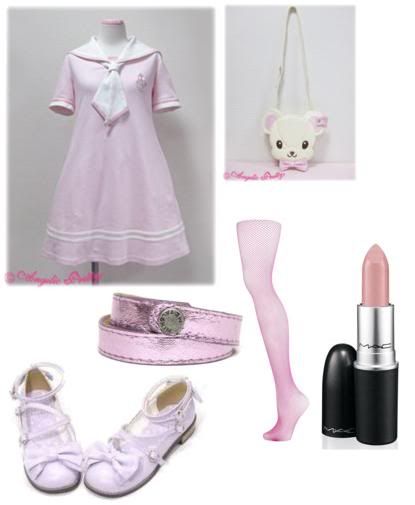 Delilah winds her finger around her faded Seafoam coloured hair and bites her lip. She's been sat next to the prettiest boy in the world on the train for the last three stops. She knocks her empty latte cup and it bumps his hand as he's reading. He looks up - finally - and she smiles coyly. Hopefully the conversation will make it worth sitting on the crowded train for two stops longer than she had to.
(Dress: Angelic Pretty - Fishnet tights: Topshop - Lipstick: MAC (in Pretty Please) - Bag: Angelic Pretty - Bracelet: metalskinnyc.com - Shoes: Angelic Pretty)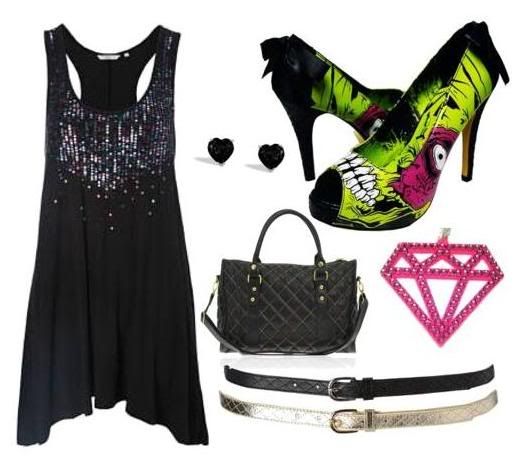 Violet leans with her back to the bar and scans around the faces for her date. He's late... again. She slams back her Jagermeister and slings her bag over shoulder before heading for the dancefloor anyway. Anyone that keeps her waiting for more than 5 minutes isn't worth waiting for.
(Sequin Vest: New Look - Belts: New Look - Jewellery: Kiki Kannibal, jewelsforme.com - Bag: Mark B - Peep-toe shoes: Iron Fist)
xoxo