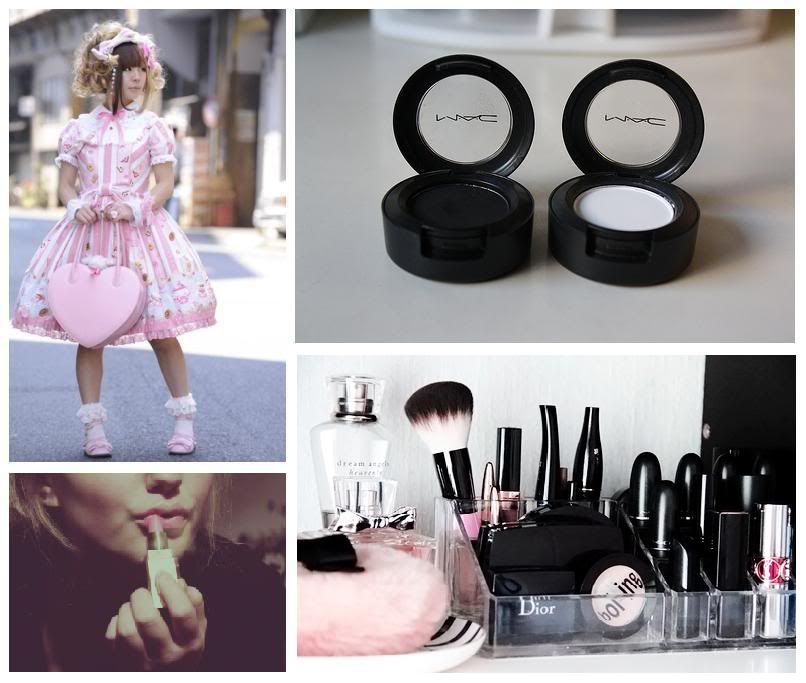 SKIN
Sweet-Lolita make-up can almost look doll-like when done perfectly and although 'Porcelain' is often used to describe a doll-like pallor, to me it's more about the smooth, radiant skin;
Start as you mean to go on; a good moisturiser will give your make-up a soft canvas to sit on, and will help your skin in the long run.
You can use foundation if your skin needs it, but Eyeko 3-in-1 cream makes a fantastic moisturising base that you can cover everywhere with; skin, neck and eyelids as a primer.
Finishing powders (a bit like bronzers) carry a lot of colour and a touch of light-reflecting glitter and can make your skin look radiant with a quick brush-over. I recommend MAC 'Soft & Gentle' to everyone, no matter their skin tone as it's a warm gold that suits most.
A touch of warm pink or peach blush under your cheekbones can give a really cute effect but it is something that's needed sparingly.
EYES
For me, the impact of sweet-Lolita make-up lies within a fresh look and BIG innocent eyes. Try a few of these hints along with a cute set of contact lenses;
Lemon-Aid by Benefit disguises any redness and evens out the tone of your eyes before any other eye make-up is applied.
There's a split opinion of whether a hard or soft liner-line suits sweet Lolita the most but I think it really depends on the person. Try different styles to see which you prefer before prescribing to a definitive make-up guide or tutorial.
It's tempting to pile on eyeliner to emphasise your eyes but it can make your lids looks heavier than they are. Line carefully and finely and bring the lower-line out a little, almost Gyaru style, to get the big-eyed effect.
A slightly wider liner-line over where your pupil falls can make eyes appear larger.
A white liner on your water-line can make eyes look wider and brighter. If you can find one in a soft yellow-toned cream, it can help to tone down any redness in the whites of your eyes.
If you want to make your eyes seem wider and more innocent, change your mascara for a shade darker.
False eyelashes are FANTASTIC for an OTT Sweet Lolita look and a more subtle set can really set off a more casual look. If you can get hold of them, Dolly Wink are a great brand to try but some sets from Eylure and even a couple in the Paris Hilton range by Elegant Touch look fantastic on western eyes; just familiarise yourself with the Japanese eyelash brand 'styles' and then try and buy similar. I've even found some good ones in Poundland!
LIPS
It's most common to underplay the lips in the sweeter styles of Lolita and a neat application of skin-toned lipstick or even just a balm is often enough to tie the look together;
Full lips are youthful and cute, but not everyone is blessed with them. Using a nude lip-liner, you can draw your lip to just OUTSIDE your natural lip-line and then fill as normal with a pale lipstick.
Dark lipsticks make lips look narrower and more mature so avoid those!
Dab a little gloss in the centre of your top and bottom lips to reflect light, emphasising them.
You can pull light to your top lip by highlighting your cupids bow with a little cream highlighter.
A nude lipstick with a pink 'jelly' gloss over the top can look really cute but you must take a few moments to line your lips with a little concealer to top the nude lipstick from feathering onto your skin as it can make the skin around your lips look a little... odd.
If all else fails, bring out the Too Faced Lip Injection.
EVERYTHING ELSE...
Gems, stickers, diamantes; they're cute but look best when used sparingly for everyday looks.
Glitter can be used to highlight your favourite parts of your face but again, it's best used sparingly. I like to use Barry M 'dd27; Gold Iridescent' at the corners of my eyes and lightly at the top of my cheekbones.
(and finally)
At the end of the day, WASH IT OFF! Keeping your skin make-up free overnight will help your skin stay beautiful ♥