I've noticed a few of these floating in blogs and all over YouTube so I thought I would do my own.
Eyeko Fat Balm in Mint. Use amabassador code E239 with purchase to get some free stuff. I remember Eyeko Bubblegum perfume pens from when I was 12 so when I saw these guys were still in business, I bought nearly everything they make to try them all out. The packaging is brilliant, but the products aren't that bad either. A little plasticy but it's all so cheap! This is my favorite of their 'Fat Balms' and it's saved my lips from office air-con on so many occasions, it's not even funny.
MAC Studio Fix compact. I use this every day, either over the top of Eyeko cream (see further down the list!) for a perfect complexion, or on it's own to even out my blotchy coloring. I would have probably painted my face pink with oil paints by now if I had never discovered this.
Eyeko cream - the pink one, not the tinted one. It says it's a 3 in 1 cream - eye cream, highlighter and moisturiser - but I usually just use it all over my face as a base for Studio Fix, or on my eyes as an eyeshadow primer. The best things about it are the golden shimmer held in it's creamy yumminess, the plastic Barbie scent of it, and the fact it's only £5.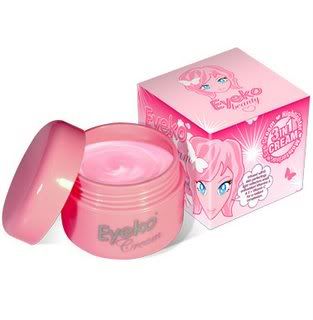 Benefit 'Hoola'. This is a great all-round bronzer that stops me from looking like a pale shade-bunny. Most of the time, I love my pale skin, but sometimes it just seems that I should at least look like the suns rays have touched me at SOME point in my life. This is for those occasions. You can work up the color to take you from sun-kissed to David Dickenson, and it doesn't transfer or fade throughout the day.
Barry M lipstick in '101' (nude to you and me). This is a recent discovery. My lips are usually really pink and I bite them all the time, which doesn't help the sitation. I've been in fights and had split lips and scars and i always used to use a cheap concealer as a base coat for lipsticks to cover all those imperfections. I like using lustre lipsticks from MAC and although the colors are brilliant, they don't have much of a base tone, it's all color 'topnotes'. This lipstick is like a lipstick primer, but I can also use it on it's own without looking like I've done half of my lips. Also, I find it amusing that my favorite nude lipstick is from the self-proclaimed "Most colorful name in cosmetics". Lulz.
MAC lipstick in 'Pretty Please'. This is my perfect lipstick. It moisturises and applies beautifully and it's in the most fabulous pink shade. It may not have the most staying power in the world, but it looks so glossy when it's newly applied and the MAC packaging looks so awesome that I really don't mind spending a few seconds reapplying throughout the day. My problem with lipsticks is that I usually play up my eyes so it's hard to find a sheer/lightly pigmented shade that I like. MACs 'Fresh Brew' from the Hello Kitty collection comes close, but as they say; "the proof is in the pudding" and this one is ultimatly more wearable.
MAC Fluidline eyeliner in 'Blacktrack'. Eyeliner is a beauty staple for me and I've had major problems with finding the perfect liquid eyeliner. I've tried the felt tips, the brushes, the little spongey arrow applicators, even gone as far as applying with a Warhammer miniatures brush from an eyeliner well. This, although it has a few problems like awful transferance when it's still drying, is the closest to perfection that I've tried. I have a few of the colors also, but this is a daily love for me, along with the 'Dipdown' shade. I still use the Warhammer brush though.
Lush 'Coalface'. It's black, it smells like licorice and it makes my face tingly clean. Need I say more?!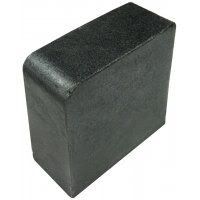 Black Phoenix Alchemy Labs 'King of Hearts'. This is a perfume oil that is as close as I've found to a signature scent. I love Black Phoenix ('BPAL' to it's fans) and I have maybe 40 different bottles, ranging from fruity blasts to freshly baked strawberry cheesecake, and this bottle is the only one that's nearly gone. I even have a back-up bottle aging in the shadows, ready to take it's place on my make-up table. This is an obvious choice for my top ten as where some days I let my skin chill out sans make-up, I'm never without a layer of scent on me.
Too Faced Lip Injection. It's sticky as anything but this lip gloss makes my lips look fantastic. As I said before, I usually play up my eyes so my lips take a backseat somewhat. They aren't my best feature in my opinion (not that I'd do anything to change them - I love them anyway) so they often get neglected. This lets them know that I still think about them! Given that I don't give them that much attention, there is a surprising amount of lip 'things' in my top ten! I suppose it's a little silly to just list ten shade of MAC eyeshadows though. This gloss tingles (read: hurts) but I think it's just so you know it's working. I've read that it works by swelling any water held in your lips so although I recommend applying this to moisturised lips as it's NOT good on cracked lips, PLEASE don't lick them after a fresh application. It hurts your lips and swells your tongue. Not fun, or pretty.
So, what are your favorites?!
Note to self; possible do a top ten of MAC eyeshadow colors?
xoxo