Jessy took Olivia's hand as gave in to being dragged up the road to every front door on the street. They'd set out for Trick or Treating after Olivia had come home from school already dressed as a ghost with one of their mums white sheets over her head.
They knocked at each door in turn and were given handfuls of sweets and chocolate; they were even given some pennies by the woman at Rose Cottage who had forgotten which day it was and felt too guilty to turn them away empty handed.
Jessy was getting bored of Trick or Treating when Olivia knocked at number 95 to find a party going on inside. The boy that opened the door looked her up and down, smiling.
"Trick of Treat?" Jessy asked.
"A little of both." was the answer.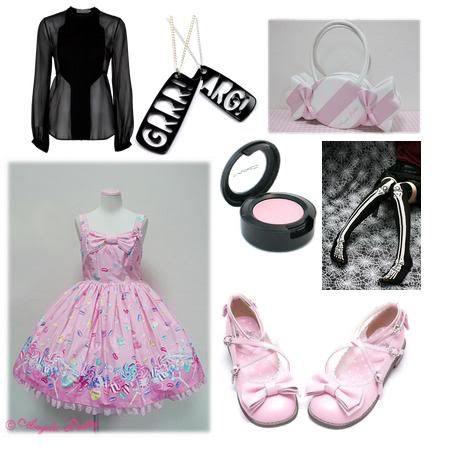 (JSK: Angelic Pretty - Blouse: PREEN - Bag: Angelic Pretty - Eyeshadow: MAC - Jewelry: hannahzakari.co.uk - Socks: sockdreams.com - Shoes: Angelic Pretty)
Emily drags her jumper over her head as she steps out of the light of the cars headlights and into the darkness of the woods. Screams are heard in the distance and she can see the shadows moving through the trees ahead. She crotches at the foot of a tree and waits. The minutes drag by and she hears a beep. Checking her phone, she sees a new message.
"I can see you..."
There's a rustle behind her and suddenly she's dragged into the foliage, kicking dead leaves up and screaming as hard as her lungs could handle. She punches up and hits soft flesh, catching her attacker off-guard. She gets free and runs. Runs and runs; str
aight into his friend. Emily throws up her arms over her head in defense as she's hit in the stomach with a chainsaw made of card and foam, ending up on the floor, laughing.
"Your turn to be Leatherface." says Chloe, with a smile.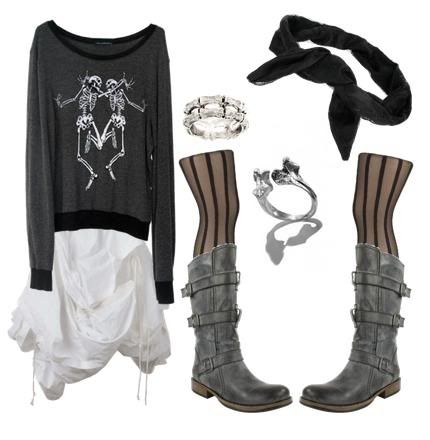 (Dress: All Saints - Shirt: shopthetrendboutique.com - Tights: Jonathan Aston - Boots: Debenhams - Ring: Ayaka Nisha - Ring 2: asos.com - Usamimi: Dorothy Perkins)
Anya
buckled her shoes and picked up her clutch as she headed out the door. Every year since she was 8, she'd been invited to a house down the road for their Halloween party and every year she'd gone and been the brunt of the jokes; being shut in coffins, covered in gunge and made to eat spaghetti and eyeballs. She looked up at the cob-web covered door of 95 and caught a glimpse of her friend walking down the street towards her.
"Do you mind taking a photo for me?" she asked, holding out a polaroid camera.
She leant on one hip and stuck two fingers up to the front door as Iona took her photo from behind. She got out a marker and scrawled 'What you're missing, assholes. xo' across the bottom of the shot and pushed it through the letterbox and kept on walking, arm-in-arm with Iona, down into town.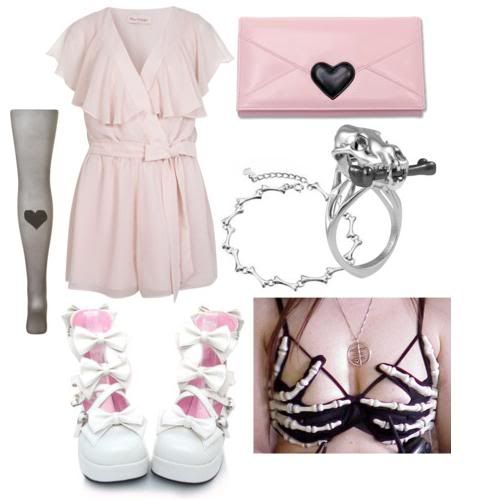 (Playsuit: Miss Selfridge - Tights: Topshop - Jewelry: Violet Darkling - Bratop: found on Tumblr.com - Clutch: MILK - Shoes: Angelic Pretty)
xoxo